Music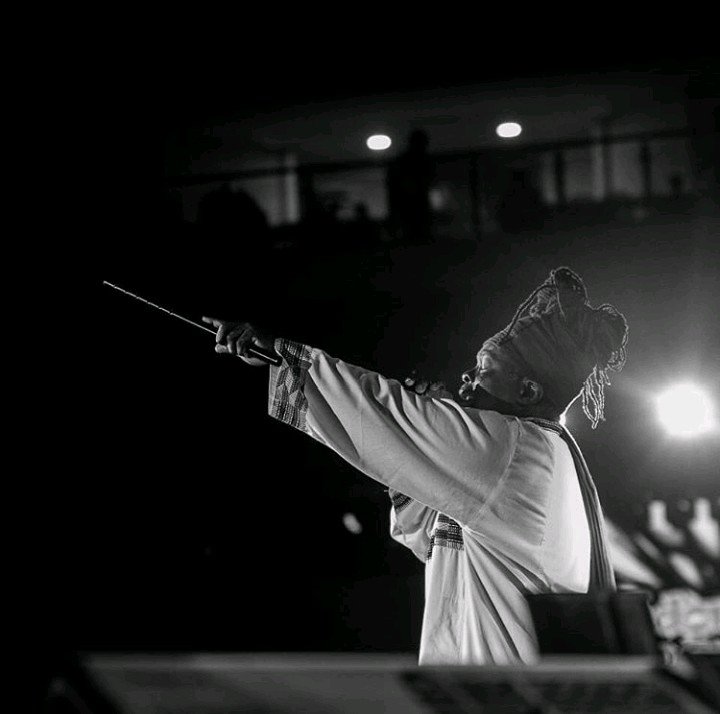 Shasha Marley's "Twin City Mafia: A Song With Cultural and Historical Preservatory Values
Yellow-dyed hair. A man in black monk gown walking across the various gates of the Elmina Castle, sometimes with kids towing behind like a biblical preacher who knows his time is near and must supplant his ideals into the next generation. He was a new voice. A new face. His fully formed face and that lean voice with reverb quivering akin to that of a Baptist preacher would soon become familiar to many ears. But, at this point, Shasha Marley was an artist whose national break was drawing closer. 
Another musician from the coastline of Western Region is blazing a trail. This time, not on the seams of highlife music that the Western region had earned a reputation for, way back from the late 70s. Rather, Shasha Marley chose reggae music. Associating the Western Region to reggae sounded like a misnomer. That's not to say, the global wave of reggae was too strong, too infectious, too assuring to ignore. My search for a notable reggae artist from the Western Region prior to Shasha Marley came up short. So, airing on the side of caution, I'd say Shasha Marley is the foremost reggae act from the Sekondi-Takoradi coastline. 
Before courting national notoriety for his nationwide hit single "Maata Family', Shasha Marley, born Julius Amua-Sekyi, has cultivated a following with his distinct music style. Though a reggae artist, his sound could be labelled as reggae adjacent. His sound can be described as a hybrid of the Bob Marley – Culture's roots rock reggae and Mutabaruka- Linton Kwesi Johnson's spoken word styled delivery.
His songs carried a pleasant vibe that both hardcore, casual reggae fan and average listener could appreciate.  The ''Monk'' draws inspiration from reggae legends Bob Marley, Winston Rodney (Burning Spear), Steel Pulse, Jimmy Cliff and global icons Nelson Mandela. His first album, ''Tell Freedom'' released in 1999 earned national notice thanks to the its lead single ''Seek Ye Good and Not Evil''.
Prior to the glint beside his name, Shasha Marley had scored a prominent feature on ''Stop AIDS, Love Life'' advocacy video, one of the most important campaigns on HIV/AIDS this country had ever witnessed. In the late 90s when the AIDS pandemic was stealing lives like a hungry goblin, the AIDS Commission used the medium of music to preach against HIV-AIDS stigmatization and the importance of safe sex (the use of condom). 
The song featured an All-Star cast of Ghanaian artists across gospel, hiplife, reggae, highlife. If you were old enough to have watched "Things We Do for Love "- the best TV series EVER, you do remember the song, right?. The placement of Shasha Marley at the beginning of the song where he coloured the edges of the production with his light and delicate vocals sounded magical. 
In 2007, Shasha Marley, after a couple of years off the scene, returned with an album that emblazoned his Ghanaian musical conscience. Unlike today where social media offers a medium to track and evaluate the performance of songs and gauge viral moments through instant data insights, it was not the case some years ago. Measuring the virality of a song was mainly through radio airplay and album (cassettes/CD) sales. 
But, a true measure of an artist's prominence and popularity, according to some people, is when young kids could sing your song or associate the song to an artist's name, or vice versa. On this 2007 "Lost and Found" album, one song – the "Maata Family"- became the breakthrough single that engulfed the country. The song's backstory, as presented by Shasha Marley helped fuel the success of the song, likewise the hilarious tinge in the chorus. 
One song off the album that is of great importance and focus of this article is "Twin City Mafia". Judging by the name of the song, it's clear to note it as an ode to his home region of Sekondi-Takoradi, popularly referred to as the "Twin City". The song is a recollection of old memories about the twin city in Shasha Marley's mental rolodex- from his school days, teen years, influences, the people who ignited and his passion for music and most, if not all the famed neighbourhoods in his commune. 
"Twin City Mafia", the evocative opening hollering by Shasha Marley, reminiscent of Bob Marley's opening lyric of "Natural Mystic" is attention grabbing. On the root rock reggae sonnet, Shasha Marley adopted a repetitive technique on the simple yet memorable hook (he repeated it 6 times). The bridge of the song – "come mek we go there inna rub-a-dub style yeh" – is taken from Bob Marley's revolutionary anthem "Bad Card". Shasha Marley would adopt a spoken word poetry style approach on his delivery rather than a melody driven approach to great success. It comes therefore as no surprise that "Twin City Mafia" is Shasha Marley's second most streamed song on Boomplay (The "Lost and Found" album has accrued over 500,000 streams).
"Twin City Mafia " is a foray into the experiences of a young Shasha Marley in his home region of Sekondi-Takoradi, which doubles as an immortalization of the famed cities. "Twin City Mafia" should be classified as a song with intrinsic cultural and historical preservatory values; a piece of art that sells Sekondi – Takoradi to a foreign audience and preserves a part of its history for future generations, if you consider how urban gentrification is wiping away towns and cities like a dangerous landslide. 
Rahim "Swayekidd" Munir writes about music, art and culture. His works have appeared on notable music related platforms.